Welcome to my stop of Unravel by Imogen Howson! Thrilling and a fabulous theme of sisters, Unravel is stunning conclusion to the Linked duology. To check out the rest of the stops, click
here
!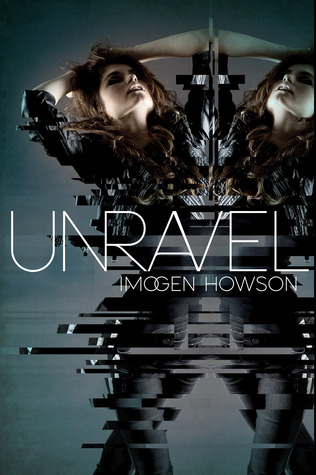 Author: Imogen Howson
Pages: 480
Publication Date: July 8, 2014
Publisher: Simon & Schuster
Untold dangers await telepathic twins in this sequel to the futuristic, romantic thriller called classic sci-fi, space-travel adventure at its best. After Elissa and Lin exposed the government's secret experiments in
Linked
, which
Booklist
called a roller-coaster ride into space that just about everyone should enjoy, their home planet Sekoia is thrown into chaos. Determined to do their part to help the planet they've hurt, they return to Sekoia only to discover that things are far worse that they imagined. Resources are suddenly scarce, people are scared, and there's a rising current of anger against the Spares. When Lissa and Lin find themselves among another group of Spares and twins, they feel like they've found their kindred spirits at last. But a threat none of them could have expected is lying in wait for Sekoia's Spares.
Two Reasons Why You Need to Read This:
1) A Complex Relationship Between Sisters
In Unravel, Lin and Lissa go through obstacles after obstacles as they find themselves in horrible situations. Lin wants to avenge the people who want kill her, but Lissa is against the idea. Seeing these two argue and fight shows true relationships between siblings. I can't express how impressed I am with these two sisters. It's rare to ever come across such dynamic and complex sisters that I must say, that this duology is truly a sci-fi gem. Even through all the ugly times, Lin and Lissa still continue to love each other.
2) Amazing Love Interest
You guys, I've found the one. Literally. Cadan is one of the best love interests I've ever come across. He's kind, smart and thoughtful. When he sees Elissa hugging another guy because he is in need for comfort, he doesn't get angry, but instead understands the situation. In young adult novels, it's extremely common for some love interests to throw a fit if they see another man touching their girl. In Unravel, Cadan isn't possessive. He gives her space.
Cadan and Elissa aren't always together in the book, but when they are, it's literally fireworks erupting. They both have obligations and they do not let their relationship get in the way. That's another reason why I liked them so much. Howson wrote their relationship unbelievably well that I truly wish to have a relationship like theirs. Easy-going, but yet super swoony!
Unravel is a page-turner with non-stop action and heart-pounding tension between Lin and Lissa. Not only that, but this duology has one of the best love interests I've ever read. (Cadan is mine!)
About the Author:
As a child, I loved reading so much that I not only read in bed, at the table and in the bath, but in the shower and – not so successfully – on my bicycle. I enjoyed books in a slightly unorthodox way, too – many of my childhood books have ragged edges where I tore paper from the margins in order to eat it. I wrote my first book at eight. It was entitled The Dragon in the Teapot and would probably have been a huge hit if I hadn't lost the only copy on a family day out.
Some years later, armed with several different types of backups, I'm busy writing romantic science fiction and fantasy for young adults and adults. I live with my partner, our two teenage daughters, and three cats, near Sherwood Forest in England. I'm a Christian, a feminist, and a lover of cheese, chocolate, stationery shops and eighties pop music. I still read in most places, but I no longer eat paper. I'm a member of
The Romantic Novelists' Association
, the
Society of Children's Book Writers and Illustrators
, the group blogs
The Lucky 13s
and
Author Allsorts
, and the online writers' community
Romance Divas
. I'm represented by
Mandy Hubbard
of
D4EO Literary Agency
.
a Rafflecopter giveaway