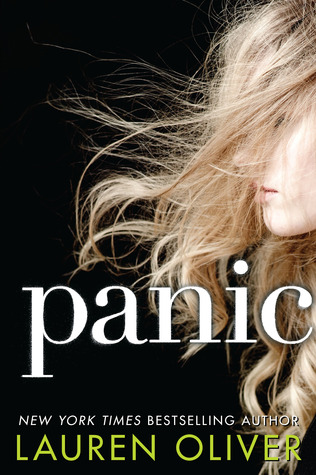 Panic
Author: Lauren Oliver
Pages: 408
Publication Date: March 4, 2014
Publisher: HarperCollins
Panic began as so many things do in Carp, a dead-end town of 12,000 people in the middle of nowhere: because it was summer, and there was nothing else to do.
Heather never thought she would compete in Panic, a legendary game played by graduating seniors, where the stakes are high and the payoff is even higher. She'd never thought of herself as fearless, the kind of person who would fight to stand out. But when she finds something, and someone, to fight for, she will discover that she is braver than she ever thought.
Dodge has never been afraid of Panic. His secret will fuel him, and get him all the way through the game, he's sure of it. But what he doesn't know is that he's not the only one with a secret. Everyone has something to play for.
For Heather and Dodge, the game will bring new alliances, unexpected revelations, and the possibility of first love for each of them—and the knowledge that sometimes the very things we fear are those we need the most.
After reading the negative reviews of this book, I wasn't sure I wanted to read this. Last year, I chose Panic as one of
Waiting on Wednesday
picks and I was positive that I was going to pre-order it, but once the reviews came, I immediately changed my mind. Panic was actually a good book. And here's why:
Beautiful writing.
Ever since I finished Lauren Oliver's Delirium trilogy, I knew I was hooked from the start. Her writing flows unbelievably well that I don't care what she writes. Basically,
anything
that marks her name on a book, I will read it. Even though she wrote it in third person (my least favourite writing style) I still loved it. Her writing is descriptive, vivid and most of all, amazing! After reading Panic, I'm quite interested to read her middle grade novels, even though I don't normally read middle grade. But with Lauren Oliver, I will read anything by her.
The Challenges.
The characters Heather, Nat and Dodge all compete in Panic, hoping that they will win $67000. Panic has sort of sketchy background to it. It's not fully explained. A lot of questions seem to rise when reading this book. Although it isn't fully explained, I enjoyed reading the challenges that the characters faced. They were absolutely thrilling and exciting. Each scene that Oliver wrote never failed me to keep me on my toes. She did write some bizarre scenes, but they were impeccably
well-written scenes
. I don't care unbelievably crazy it was, Panic is an entertaining read.
Although I enjoyed most of it, there was one thing that I did not like.
The Ending.
It was so conveniently wrapped up. Between the second last chapter and the last chapter, it was as if she forgot to write a chunk of it. The second last chapter was dated August 25 and the last chapter was dated October 8. I wasn't fully convinced of the ending. There were problems left unsolved and the idea of them winning such a high amount of money seemed pretty sketchy to me. I was just not convinced of the whole happy ending. Maybe if it was a bit more open ended, I would've enjoyed it.